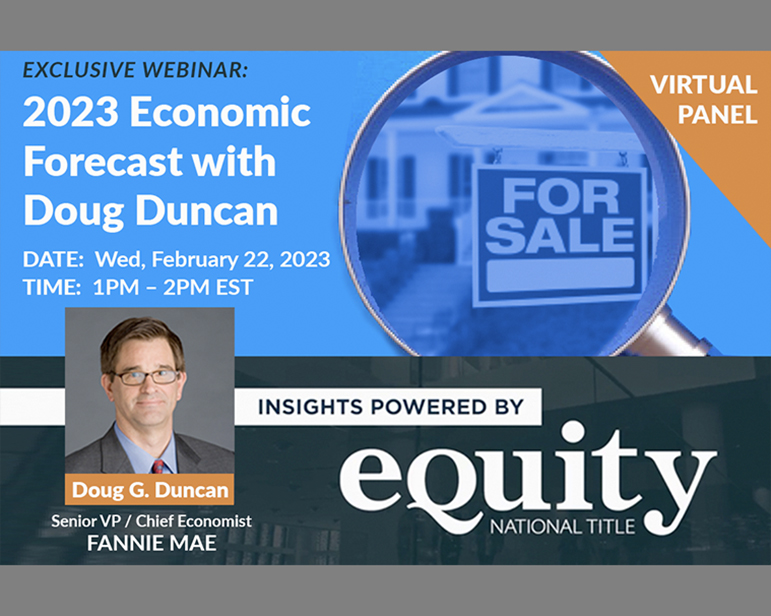 Exclusive Webinar with Doug Duncan
You're Invited to an Exclusive Virtual Webinar featuring Doug Duncan,
Chief Economist of Fannie Mae.
DATE: Wednesday, February 22, 2023
TIME: 1:00-2:00pm
Dear Friends,
Equity is pleased to announce that we have Doug G. Duncan, Fannie Mae's Senior Vice President and Chief Economist, joining us as guest speaker for our next "Insights Powered by Equity" Webinar Series!
Douglas G. Duncan is Senior Vice President and Chief Economist at Fannie Mae where he is responsible for forecasts and analyses of the economy and the housing and mortgage markets. Duncan also oversees strategic research regarding the potential impact of external factors on the housing industry. Named one of Bloomberg / BusinessWeek's 50 Most Powerful People in Real Estate and Inman News' 100 Most Influential People in Real Estate, Doug is Fannie Mae's source for information and analyses on demographics and the external business and economic environment; the implications of changes in economic activity on the company's strategy and execution; and for forecasting overall housing, economic, and mortgage market activity.*
Hosted by Jim O'Donnell, President of Equity National Title, this engaging, virtual webinar will go over how the mortgage industry is overcoming the challenges first faced in 2022, and where it's now heading in 2023. Jim will also discuss with Doug some winning strategies for the future.
This session is going to fill up quickly, so don't miss out!
Register here: https://register.gotowebinar.com/rt/5616322316204623190
Email Jim your questions in advance, and he'll try to address most of them at the Q&A session following the panel discussion.
YOUR HOST:
James K. O'Donnell, Esq., 
President
Equity National Title
jodonnell@equitynational.com
[1] https://www.fanniemae.com/about-us/fannie-mae-leadership-team/douglas-g-...
By: Equity National February 14, 2023 Uncategorized